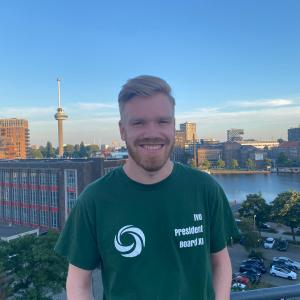 Heey Guys, My name is Ivo, 26 years old and your president for the upcoming Lustrum year. You will see me probably at every EV event or night as I already was an active member of the association, and with the board it will be even more. After multiple committees I wanted to get to the ultimate EV thing, the board. During upcoming year always feel free to come up to me and have a chat about Volleyball, football, business or cocktails. And of course if you have any good ideas for the association always feel free to suggest them to me or any other board member. For now I am really looking forward to a full year of Volleyball again with this association and all members! But don't forget about all the fun activities that will also come. Hope to see you soon!!
---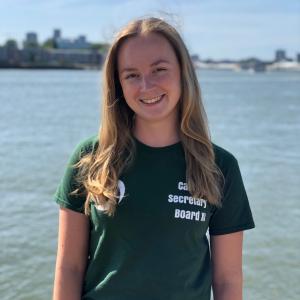 Hey everyone! My name is Carmen and this year I am the secretary of Erasmus Volley. I am 22 years old and I will begin with my master's degree in cultural economics and entrepreneurship this upcoming year. For the past two years I have been a part of this great association. If you are joining Erasmus Volley, I am happy to lead you the way and answer all your questions. You will also receive a monthly mail from me with fun updates about the association or I can be your listening ear when needed. And last but not least, every Thursday you can find me in Pardoen to drink some beers (or wine) and have a lot of fun!
Hope to see you soon!
---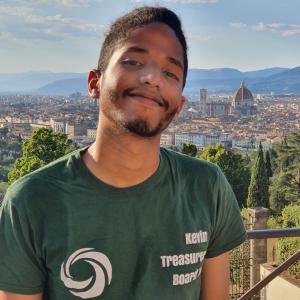 Hey guys, I'm Kevin and am proud to be this year's treasurer of Erasmus Volley. I am currently 23 years old and this will be my sixth year at this amazing association. I am currently studying Human Resource Management at Hogeschool Rotterdam, where I will be going into my final year. My hobbies include volleyball (surprise surprise), gaming and collecting happy socks! If you don't know me already, you will soon since I'll be in charge of selling bar cards at Pardoen throughout the season. That is only a small part of my responsibilities, since I am also responsible for all incomes and expenses of this association! I am really looking forward to this year, where we will hopefully not be hindered by the rona and we can have an amazing lustrum year!!!
If you wanna talk to me, whether it's about finances, volleyball, or anything else, feel free to do so! 
Regards, Kevin
---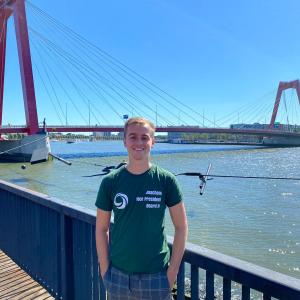 He all! My name is Joachem and I have the honor of being the Vice- President of Erasmus Volley this year. As the vice president I will work with all the committees that have to do with organizing activities or events. I also see it as my responsibility to try my best to make sure everyone is having fun and feeling comfortable while doing this. Playing Volleybal on itself isn't my best asset, but having fun and drinking beers is my strong suit. So if you are interested in a committee you can always approach me ! But of course also feel free to hit me up if you feel like chatting or having a chug battle :)
---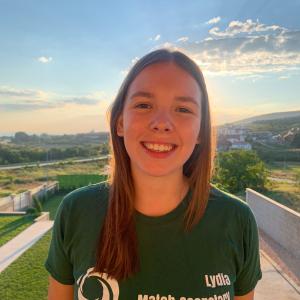 Hi! My name is Lydia Scheele (22) and this year I have been fortunate enough to take on the challenge of Match Secretary of Erasmus Volley (EV). In September I start my pre-masters, International Business at Erasmus University. This will be my second year at EV and you might think; that's not long! But I enjoyed my first year so much, I wanted to be more involved. As Match Secretary I am your contact person regarding everything volleyball related! Don't hesitate to contact me when you have questions. You can find me at Erasmus Sport and Pardoen every Thursday evening!