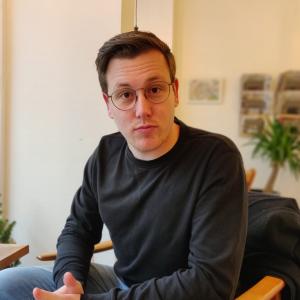 After two years of heart for the club, it seemed a logical step to show my commitment in a new way. Not only will I be playing men's volleybal next year, but I also play my part in the board of Erasmus Volley. I am passionate about entertaining the people around me and the sport itself; playing with or against me is always fun. Humble in victory and graceful in defeat! Upcoming season will be an amazing experience for all of us: The board, me,  but especially for the whole club. There is something I have learned: It is not what your club does for you, but what you can do for your club! Do not hesitate to speak up if you disagree with something and I encourage you to start the conversation with others in order to develop. Feedback for me or in need of advice? Feel free to stop by, for we are only prisoners of our own device.
Papabear Twan out * mic drop *
---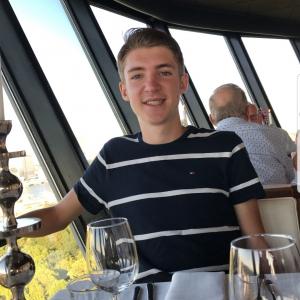 Hey, my name is Fabio, the secretary of this year and therefore you could know me from the member mail or as that really handsome man from Erasmus Volley. I am 20 years old and born in Bleiswijk, but I have been living in Rotterdam for a year now. I am in my 2nd year of business administration at the Erasmus University. Besides Volleyball, I also play soccer and tennis. I am not too good at playing volleyball, so I have to compensate during the parties of EV. Sometimes I drink a little too much, oops. You can always start a conversation with me in Pardoen where you can find me every Thursday. You can always convince me to go to Vrienden Live. My primary goal of this year is to have a really nice year with everyone and make you feel home. If that is not the case, you can always talk with me and I will try everything I can to make your year still awesome.
---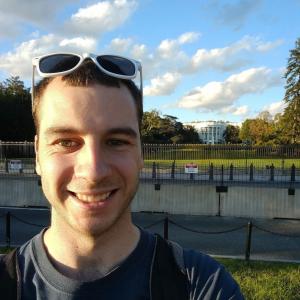 Meanwhile I have started my seventh year at Erasmus Volley, meaning that I just missed the first year of the association's existence. Throughout the past six seasons I have, besides playing volleyball of course, been focused on the development of Erasmus Volley Play. As a result, I had the pleasure of collaborating with the previous six boards and caught some things about their tasks and duties.
Now that Play is as good as done, it's time for something new and I have found that in the board as treasurer. You can find me in our pub Pardoen in the 'Oude Haven' every Thursday evening, where I would be delighted to sell you a pub card. I look forward to organising, together with my board and the committees, a number of great activities for you. As treasurer I am primarily responsible for the financial administration and budgeting of the association. In addition, I am also responsible for subsidies and involved in sponsoring, in collaboration with the external relations committee, and I work closely with the treasurers of our committees.
---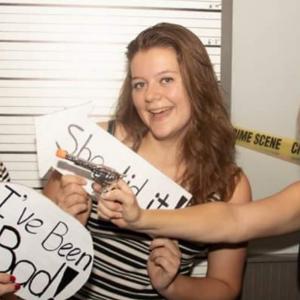 HEYHEY, I'm Puck and I'll be the vice-president of THE best student volleyball association coming year! Erasmus Volley is not only known for the amazing volleyball that can been played on every level but also for it's unforgettable events (that's if you don't drink too much). As vicepresident I get to work together with all the super GEZELLIGE committees we have (TRUST ME you want to join one!). The committees will make sure to organize the most memorable parties, tournaments, pardoen evenings and weekends! Coming year will be my second year as a member of Erasmus Volley. And my third year as a student at Erasmus studying Academische Pabo. Next to playing volleyball I also enjoy music and partying. I'm sure we'll have a blast coming season!!
PS. Free piece of advice, ALWAYS share your birthday cocktail in Pardoen! Speaking from experience here :P
---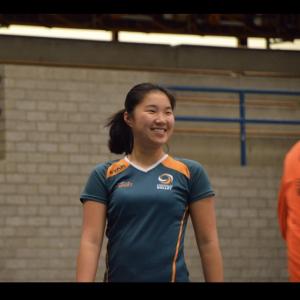 Hello (future) EV'ers, you have probably already read this, but upcoming year I will be your new match secretary! This means that I will make sure that (hopefully) every Monday and Thursday evening everything volleyball related will go as smooth as planned. Not to mention that I will also be there at Pardoen every Thursday night! When I moved to Rotterdam for my bachelor, I planned to quit volleyball. As you may have noticed, I did not follow through with my plan. Because of the 'gezellige' Pardoen nights, fun activities and amazing people, I can say that I'm very happy that I never quit. (If you haven't learned the word 'gezellig' yet, then don't worry because you'll learn this very soon.) I had such a fun time with these people the past year from having small activities like teamdinners and birthdays to bigger activities like the beercantus and gala! Outside of volleyball, these people are also my friends with whom I love to drink a beer or wine or even study with. To end this cheesy story, I would like to say that EV is so much more than a volleybalclub for me. The best memories I have of this past year are with people of EV and I hope you all think of this the same way as I do next year!